Lanzhou Marathon Registration officially starts from 15:00 on March 5, 2019
On the afternoon of March 5, the press conference of the "Bank of Lanzhou"Cup 2019 Lanzhou International Marathon was held in Lanzhou, announcing that the race will start at 7:30am of June 2, 2019.Online registration starts from 15:00 of March 5. The theme of this edition is "Global LANMA ∙ Exquisite Lanzhou". As the "double gold" label race, the race will work hard to push forward the city's development, as well as the people's life quality.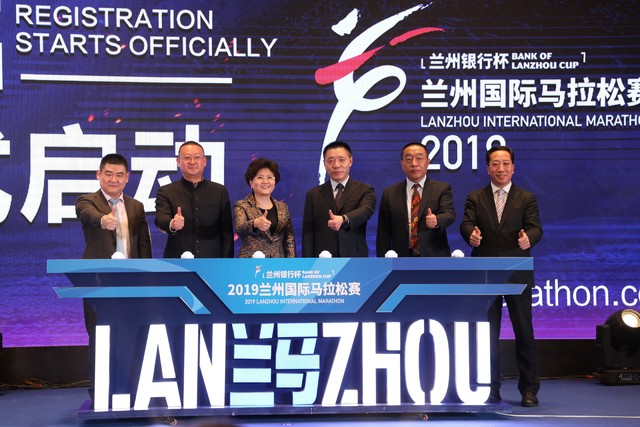 During the press conference, Ms.Ma Caiyun,the vice Mayor of Lanzhou Municipal Government has reviewed the contribution of the race towards Lanzhou sports career, and looked forward for the future. Mr. Wang Zhengxuan, the race director of Lanzhou International Marathon, introduced the race information. Mr. Si Shujian,the general manager of Beijing Zhongji Sports Management Co., Ltd. explained the branding marketing image and related promotion work. Mr. Tian Guoqiang, the deputy secretary of the Party Committee of Bank of Lanzhou Co., Ltd.and Mr. Lijun, the Director of the Office of the Supervisory Board, and Mr.Wu Piaoshan, the deputy manager of the Qiaodan Sports (Lanzhou branch) all attended the conference.
This year, the start point and the finish point is again set at Gansu International Convention and Exhibition Center. The course is set along the Yellow River scenery line,reflecting the scenic spots along the 42.195KM journey. There are 40,000 participants, with total 4 categories: with 3,000 for full marathon, 7,000 for half marathon, 17,000 for health run(5km) and 3,000 for family run(5km).
Online registration is acceptable,and final draw is used to decide the final participation. It officially starts from 15:00 of March 5, 2019, and ends at 17:00 of March.15, 2019. Please refer to website: www.lzmarathon.com.
Registration Fee:
(1)Foreign Participant:350RMB/person.
(2)Domestic Participant(including those from Hong Kong, Maocao and Taiwan): RMB150/person for Marathon, RMB 100/person for Half Marathon,RMB60/person for Health Run or Family Run.
It is great news that for runners who registered via the mobile APP version of Bank of Lanzhou, or through bhelife APP (real name registered), can rewarded as a coupon of 10RMB discount.Once succeeded in pre-registration and the draw, runners are welcome to pay via Mobile APP channel to conduct payment,and 30-50RMB discount will be provided for runners.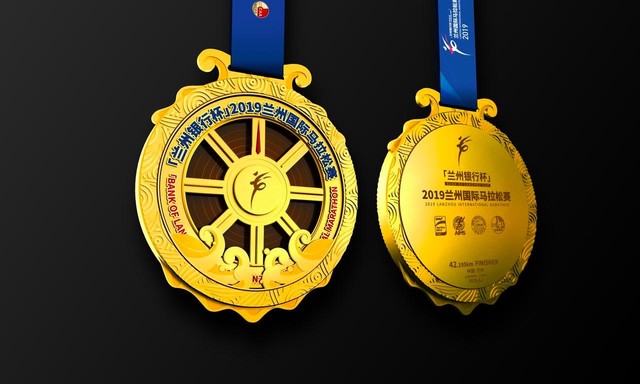 For more derails, please keep watching on the news on the official Wechat account.
During today's conference, the T shirt style and medal mode were reveled to the public. Slight blue is considered as the main color, highlighting running vitality.Vague speed texture improves the sense of fashion.The print of "RUN" and "Lanzhou" on backside of each half marathon/ health run T shirts well displays city name, advocating the combination concept of city culture and healthy running. It contributes deeper running meanings. As of the medals of this year, waterwheel pattern is still in applied, with inner and outer rings designed exquisitely. The outer ring is generated from the elements of Lanzhou Majiayao Colored Pottery.The inner ring is designed as a rotating water cart with water blossoms on the bottom, symbolizing the endless culture of the Yellow River. By combining elements such as the Yellow River, waterwheel and Gansu painted pottery,the medal shows Lanzhou's long and splendid human history, as well as the river's tremendous momentum that brings to runners while they are running.
The IAAF Global Running Conference China 2019 will be staged in Lanzhou.
It is estimated that the IAAF Global Running Conference China 2019 will be staged in Lanzhou, China.It is one professional running conference in running industry, hosted by IAAF (the International Athletics Federation), organized by CAA (Chinese Athletics Federation) and Lanzhou Municipal Government, and operated by Beijing Zhongji Sports Management Co., Ltd. The conference will gather a large number of worldwide marathon race organizers, running industry experts, runners, sports medias in Lanzhou for this grand moment. It creates a bridge for Lanzhou to connect with the word for further communications, global publicity and promotion, moving forward to internationalization.
Tracing for "LAN" Dream, Challenging "PB"
Lanzhou Marathon is the marathon race with highest altitude within Chinese territory, so called by runners the most difficult race to challenge your PB. Marathon heroes are displayed, and marathon spirits of"challenging ourselves, and never give up"is reflected.
Exciting activities, LANMA Carnival
Before the race, training camp is set up, and photography contest is organized as well. Online interaction between runners and spectators will be ready, and more visitors who do not come on site will also be able to involve through online technology.
Common Wealth • Warm Gold City
In terms of public welfare, 2019 LANMA will continue to carry out the "Dream 1 km" program, organizing people with disabilities to complete one kilometer of challenges with other runners, and release positive energy to the whole society through this running.